CHARACTER ACTOR TOM POSTON DIES AT 85...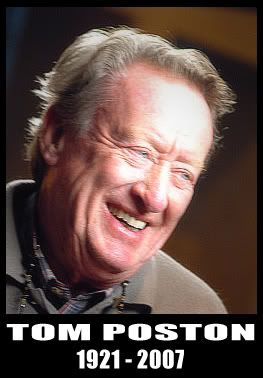 He was great as Mr. Bickley on "Mork & Mindy" and as George the Handyman on "Newhart".

Here's the full story:

http://news.yahoo.com/s/ap/20070501/ap_en_tv/obit_poston_7;_ylt=As.KJd40u6OGGb8n0x7EpFrBaMYA
Happy Belated 18th Birthday LiveJournal. You can now register for the draft. Drink if you take a trip to England, Make your own decision to…

I actually forgot I had this LiveJournal account! It seems like a million years. I am still alive. Peace.

I haven't been on here in ages. I don't even know who I am talking to. I am alive. I am well. I am going to bed!